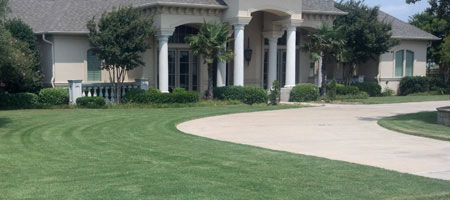 ---
**12-Month Commitment Required**
Total Care PLUS: (starting at $230+tax/month)
Thirty-eight(38) visits annually to perform the following tasks:
Mow lawn areas with mulching mower; providing a clean uniform cut while adding organic matter (mulched grass clippings) back into the turf for added nitrogen. NOTE: Bagged clippings (beyond Spring Cleanup) are subject to additional charge.
Edge Walkways, Hardscapes and Flower Bed areas throughout your landscape. This provides for a manicured appearance to the lawn's edge, as well as controls creeping grasses from invading your hardscapes and flower beds.
Trim grass from around tree and shrub trunks. Our preferred method is to create a tree ring (approx 2ft radius) and apply mulch rather than use line trimmers around the trunks of trees and shrubs. This extra care ensures that your tree trunks are not damaged by the powerful line trimmers that could otherwise open the tree's protective skin (bark) to insects and disease.
Clean Flower Bed and Planting areas as needed. This service ensures that our customers have clean, weed-free planting areas for their annuals and perennials.
Cleanup properties after all landscape areas have been manicured.
Trim Trees as needed to remove dead branches, as well as raise / open the canopy for better air flow and increased sun light to lower turf and planting areas. Tree pruning is also essential for preventing damage to fence and building structures from low-hanging limbs.
Prune Shrubs as needed to maintain a clean, manicured appearance.
Provide required Lawn, Tree and Shrub feedings throughout the year (3 to 5 feedings annually … depending on lawn type). We use a high quality commercial fertilizer, containing both slow release and soluble nitrogen for your lawn, landscape trees, shrubs and flowers in order to maintain a thick, green, weed-free lawn; as well as provide your trees, shrubs and flowers sufficient nutrients to support vigorous growth throughout the growing season.
Complete Weed Control. This includes Pre-Emergent treatments for Cool and Warm season weeds, as well as spot treatment of Broadleaved and Grassy Weeds (including Nutsedge) throughout your landscape.
Monitor and Treat for horticultural pests that would otherwise harm your landscape plantings. Miles Landscaping will only use pesticides as a last resort to prevent harmful insects from damaging your landscape plantings. Instead, we work to ensure a healthy garden and ecosystem that will attract beneficial insects (predators, parasitoids, and pollinators) that have the ability to fend off harmful insects. This will include the use of organic pesticides when necessary, as well as encouraging the planting of vegetation that will attract beneficial insects such as Praying Mantises, Butterflies and Lady Bugs to your garden.
Fire Ant Control.  Annual treatment will eliminate Fire Ants from your landscape to allow for a 'Sting-Free' landscape.
Sulfur Application.  Miles Landscaping will apply Sulfur during the Winter to balance the soil pH, as well as develop deeper and stronger root systems.
Turf Aeration.  This service provides multiple benefits, including allowing oxygen and nutrients to reach deeper into the soil, relieve compaction caused by mowers and foot-traffic, as well as removing thatch build up that occurs over time.
Moisture Manager Applications.  Miles Landscaping will apply Moisture Manager Quarterly to provide an organic solution that will balance soil moisture, increase plant root growth and improve overall plant health and it's ability to thrive stressful situations (i.e. Drought conditions).  Moisture Manager will also allow for a 50% reduction in watering requirements, which will save $$$ in your monthly water bill.
---